Principles of Effective Logo Design is our today's topic. In today's digital age, logos often appear across a wide range of digital platforms, including websites, social media profiles, mobile apps, and email signatures. An effective logo design should be adaptable to various digital formats and screen sizes.
To ensure the logo remains visually appealing and legible on digital platforms, consider the following factors:
Principles of Effective Logo Design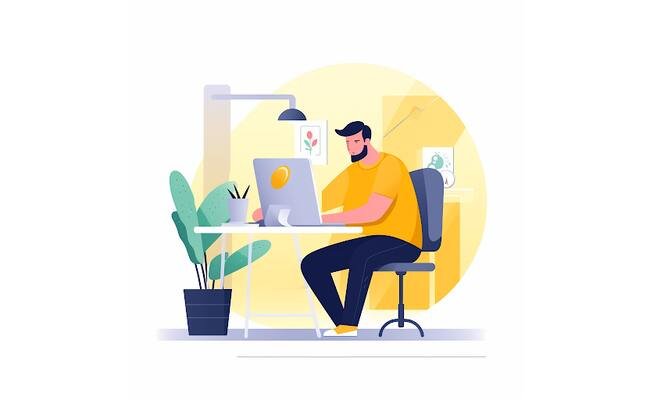 Responsiveness:
The logo should be responsive, meaning it can adjust its size and layout seamlessly across different devices and screen resolutions. A responsive logo ensures that it looks great on both desktops and mobile devices, providing a consistent user experience.
Simplified Versions:
Create simplified versions or variations of the logo for specific digital use cases. For example, design a square or circular version that can serve as a social media profile picture, where space is limited.
App Icons:
If the brand has a mobile app, design a simplified version of the logo to work as the app icon. App icons need to be recognizable even at tiny sizes, so focus on the essential elements of the logo.
Animated Logo:
Consider how the logo might appear in animated form for use in video intros, social media posts, or website interactions. An animated logo can add a dynamic and engaging element to the brand's digital presence.
Favicon:
Design a favicon, a small icon that appears in the browser's address bar, to represent the brand's website. Favicon design should be simple and easy to recognize even at very small sizes.
Optimize File Formats:
Save the logo in appropriate file formats (such as SVG, PNG, and JPG) with transparent backgrounds to ensure versatility across different digital platforms.
Contrast and Color:
Ensure that the logo maintains its visual impact even on screens with varying brightness and color settings. Test the logo on different devices to ensure its legibility in different conditions.
Social Media Thumbnail:
Social media platforms often display thumbnails of the logo alongside posts and content. Ensure that the logo remains clear and recognizable even in these small thumbnail formats.
Transparent Background:
When designing the logo, use a transparent background to allow seamless integration into various digital contexts. A transparent background ensures that the logo blends seamlessly with different website layouts and color schemes.
Mobile Responsiveness:
With the increasing prevalence of mobile browsing, it's essential to ensure the logo retains its impact on smaller screens. Pay attention to legibility and visual clarity when designing for mobile devices.
High-Resolution Formats:
Provide high-resolution versions of the logo to maintain image quality on high-definition screens. High-resolution logos are essential for applications on retina displays and other advanced screen technologies.
Social Media Cover Photos and Banners:
Design a version of the logo that fits well in social media cover photos or banners. This larger format allows for more creative possibilities and can serve as a prominent visual representation of the brand on social media profiles.
Transparent Watermark:
Create a transparent watermark version of the logo that can be used to protect digital assets, such as images or downloadable content. A watermark with the logo reinforces brand identity and prevents unauthorized use of the material.
Accessibility Considerations:
Ensure that the logo design takes into account accessibility standards for individuals with visual impairments. High contrast, clear shapes, and easy-to-read typography contribute to a more accessible logo design.
Browser Compatibility Of Effective Logo Design:
Test the logo across different web browsers to ensure consistent rendering. Some browsers might display images differently, and testing helps identify any potential issues.
Digital Branding Guidelines:
Develop comprehensive digital branding guidelines that specify how the logo should be used across various digital platforms. These guidelines should include size specifications, color variations, and rules for logo placement to maintain visual consistency.
Social Media Profile Elements:
Incorporate the logo into profile elements such as profile pictures, cover photos, and social media headers. Consistent use of the logo across social media channels reinforces the brand's identity and helps with brand recognition.
Conclusion
By addressing these digital adaptation considerations, designers can create logos that seamlessly integrate into the digital landscape and maintain a strong visual presence across various online touchpoints. An adaptable logo enhances the brand's digital marketing efforts, strengthens customer engagement, and fosters a cohesive brand experience.
Create your logo online for free with Turbologo, the logo generator that allows you to pay only if you're satisfied with the result.
By considering the logo's adaptability to digital platforms, designers can create a versatile and cohesive brand presence across the digital landscape, further enhancing the brand's recognition and reach among its online audience. Hope you enjoy reading our article The Principles of Effective Logo Design 2023 Best Info.